I've decided to start including mood music to read along to. Hit play before reading.
Andrew Bird

- Self Torture -

Armchair Apocrypha
I continue to be at a loss. Sam said today that the other night she missed "Me", but it wasn't something she wanted in her life right now...it actually was said in reverse order, but the combination is just so perplexing and offensive that I choose to believe she meant something entirely different.

The word "impasse" has been used a lot lately. Arguments that she can't manage to win and I refuse to let go are dismissed as such if we've managed to get to that point more or less calmly. If we hadn't managed to do so she would tend to change the subject or say she was leaving. Even the situation as it stands has been deemed an impasse...my needs or hers; I am willing to sacrifice everything except my love itself, which is something she does not want in the slightest at the moment. After a bit, and in response to the aforementioned sequential statement I told her that I miss her all of the time and immediately i was told it wasn't healthy.

Somehow along the way, lasting through heartbreaks and pain, fear and arguments, unwanted revelations and half-truths I had missed that this has all for my health. Silly thing of me to do...I know.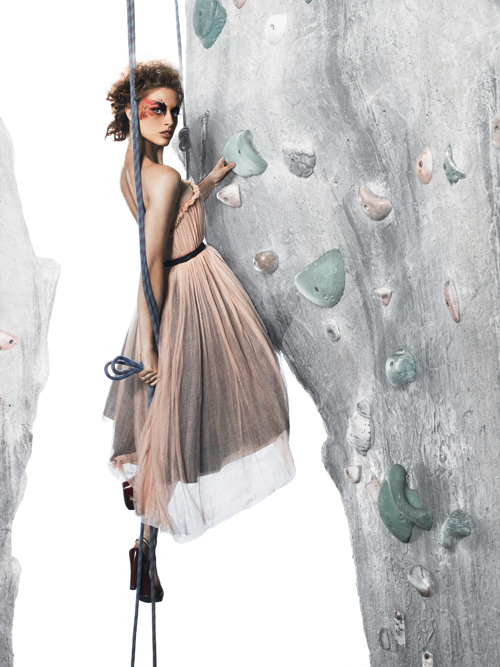 Not that I could ever escape the situation I am in as easily as finding someone who offers all that Sam does while actually returning some form of sentimental, emotional and physical tie apart from the emotional DAMAGE we inflict on eachother. I saw this photo and started to daydream just a tiny bit about the girl who may be out there, but undoubtedly...not here.


(the photo is from America's Next Top Model...yes. It's a vice, kiss my ass you judgmental little shit. At least it isn't black tar heroin.)

She is slim from activity, not from superficial image tampering like living in a gym. She's smarter than me in a way which she can manage not to be condescending and creative enough to be able to be my muse when my own creativity fails. (and up to the daunting frequency that tends to happen.) She's a rock climbing, peddle-pushing healthy eater, but knows the value that only cheesecake, butter and carbs can offer. She drinks coffee and tea and reads often. She's supportive when appropriate but can read when it's best just to let me vent the steam on my own. She's someone who I am willing to devote everything I have, always, but don't need to for us to both be happy. She enjoys movies and knows which movie I always watch (and sing along to) when I am sick. She can cook or better - WE can cook. She can go out and spend time with anyone else but always be satisfied and satisfy ending up in the same place when the day is over.

I'm sure my perfect girl has limitless provisos and stipulatory criteria and I am entirely aware for anything great she may offer, there will always be compromises and disagreements, wouldn't life be boring without them? But that is such the beauty of Sam; she can break my heart, disagree and argue, accidentally neglect me at times, but at the end of the day I still feel she's kind and meritorious and life with her is immeasurably more fulfilling than without.

Perhaps "without" is where the tiles fall after all.